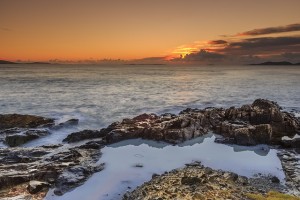 Following the turmoil of Storm Dennis, a deserted cargo ship washed up off the coast of County Cork, Ireland.
Constructed in 1976, the MV Alta 80 meter cargo ship, began its tribulation in September 2018 while on a voyage from Greece to Haiti. The vessel left drifting at sea for twenty days, after it endured a complete power loss at 1,300 miles southeast of Bermuda.
The food was delivered by the US Coast Guard in the wake of diminishing supplies on board, but impending hurricane prompted the rescue of the ten crew members, and then leave the ship abandoned.
In the course of the next year and a half, the ship seems to have floated covering thousands of miles across the Atlantic Ocean, before it landed in Ireland last week and find herself stuck on the rocks close to the village of Ballycotton.
After investigating, County Cork Council confirmed that there is no sign of visible pollution leaking from the Ship. They also share an account of a person who came forward declaring to be the ship's owner.
Source: BBC News