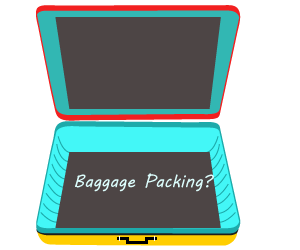 For excess baggage to India, packing is the most important and annoying factor.
Yes, annoying, admit it!
Every time when you finish packing a luggage, there will be always something popping up out of the hat, and baffle you as where to set them.
It all gets even worse  when you've left the things to pack for the last minute.
We understand how it feels.
And to make the packing process easier, here, we enlighten you with the top 5 tips that you can implement while preparing luggage for excess baggage.
Top 5 Baggage Packing tips: 1 Advance Planning
Make sure you jot down everything you want to pack at least a month in advance.
You need not to invest a quantity of time to get this right.
Take out time  on your day off. Two hours of labour on those holidays will smooth out the process and make certain that your baggage delivery is secure.
Start packing the items you know you don't use frequently enough and you want to carry them back.
Top 5 Baggage Packing tips: 2 Do Vacuum Pack
Making a roll of your cloths and placing inside in economical vacuum compression bags, will not only save you some space, but also help prevent creases, thus leaves no ironing to be done of cloths upon the arrival.
Top 5 Baggage  Packing tips : 3 Be smart with your placement
It is wise to roll up your undergarments and stuff of similar nature into your shoes to obtain some space. Whistle doing this, make sure you bundle light color cloths inside out to prevent them from stains.
Top 5 Baggage Packing tips: 4 Use Shoe Bags to Pack Footwear
Always keep space between your shoes and clothes, so as to prevent the direct contact.  Make use of nylon shoe bags to keep them divided and keep your socks inside.
Top 5 Baggage Packing tips: 5 Keep Cables Neat
We all know, how messy the cables can get. And we have plenty of them to gratify our daily basic requirements. From chargers to USB cables, we have all to carry along.
You can loop the cables and tie them with wire strings (generally you get these little strings  along with gadgets or cables when you purchase). This will make sure your cables are tidy and in order.