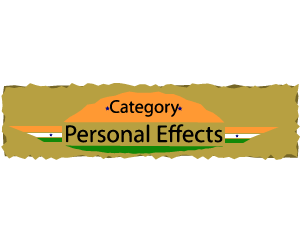 It has been commonly observed when you send luggage to India from UK that many or even some 'industry professionals' barely realize the importance of the category; under which they . Particularly, an inceptive  user of the service might not even familiar why it is vital to understand the category. In this piece we shall take a dip into the Personal Effects category depths, and unfasten some details that will be of use while you prepare to send luggage to India from UK. And will also aid one while dealing with the destination customs.
The Category: Personal Effects When You Send luggage to India from UK
Every time you send luggage to India from UK it is likely to be categorized as 'Personal Effects' or 'Used Personal Effects' or 'Excess Baggage'. Now one may ask, why Personal Effects? As a general rule, the class Personal Effects is assigned to the passengers who are travelling from the United Kingdom to India. The category is also identified as Personal Excess Baggage. And the term 'used personal effects for satisfying day-to-day requirements of life' is not described in the India Baggage Rules.  As a result, the verdict solely pronounced by the customs officer in determining the nature of the items. Though, they've published no list as such that include the complete range of items.
Usually, the goods such as used personal wears like suites, shoes, shirts, T-shirts, shoe brush, blouses, sarees, undergarment, pants, handkerchiefs, gloves, dentures, cosmetic currently in use, towels, bedding, toiletries, blankets, used bedding, walking sticks, umbrella, hair dryer, shaving kit, hearing aid, sunglasses, and many such goods alike,which are considered under the definition. Any item other than mentioned can also be included totally on the basis of merits and individual case.
However, there are a variety of electronic goods and white goods which are disqualified to bring under the Personal Effects category for passengers who send luggage to India from UK.
For travelers there are many goods that can be carried under this very category including: Jewellery for Personal use, single typewriter, a laptop/computer/notebook, a pair of binoculars, etc.  These are allowance is in addition Baggage Rule— Personal Effect.
In case you wish to know more about the category to send luggage to India from UK then pick up your phone and call us at 02035983450 or leave an inquiry.