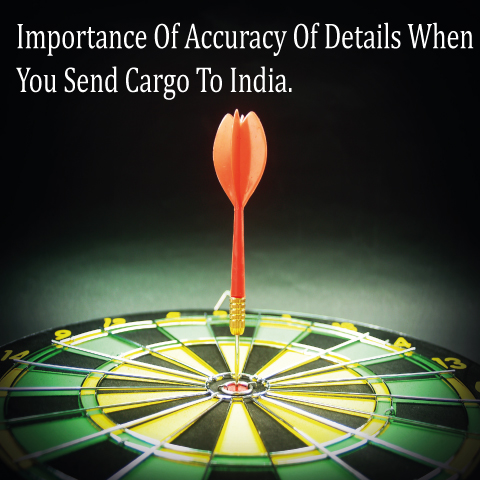 When you send cargo to India without a doubt appropriate details of a shipment, is a guarantee of a smooth transfer. On many occasion patrons do not recognize the importance of accurate details, and end up providing details; generally are incomplete, or sometime even give out incorrect details for the delivery–list of articles packed inside the box.
We understand no shipper commit these errors on purpose while they look to send cargo to India. But they miss out these details, majorly because they either plan their cargo to India in a rush, or the slip in accuracy occurs due to the absence of the main shipper as someone else is doing cargo on their behalf.
In this post, we will throw light on some important points. If you get it right, then your shipments will  see a  smooth transition and delivery.
For Door To Door Delivery While You Send Cargo To India
First and foremost, we advice to plan your cargo delivery well in advance.
Keep the track of the articles you want to send. We recommend you to prepare a thorough list of items (preferably in a box-wise manner). This will be of great assistants, not just to the company whom you've opted to go ahead with, but also for the destination custom officers for a swift processing.
For collections, the accuracy of address  is highly recommended coupled with contact numbers of the collection point. In case, if the collection address access has some special instructions mention it. Or if the doorbell is not working do have a say prior pick-up. Also, have a mention of parking space availability. Giving these details up front will maximize the chances of a successful collection.
For Airport To Airport Delivery You Send Cargo To India
Generally airport to airport service is used for sending excess baggage to India from UK. In normal circumstances, patron/passengers are unaware of the documentation required for the destination custom clearance, which they need to produce. You can follow the list below.
Passengers or travelers need to keep their travel ticket at handy while clearing.
They need their passport or travel document handy at the time clearance.
A well prepared box-wise packing list will definitely aid you and customs officers while clearance.
And definitely sender and receiver name has to be the same for excess baggage to India.
If you keep these things in mind before you send cargo to India, you can easily overcome the unnecessary delays and hassles in transit.
Always keep in mind the more the accuracy, the more the chances of cargo's swift transit.