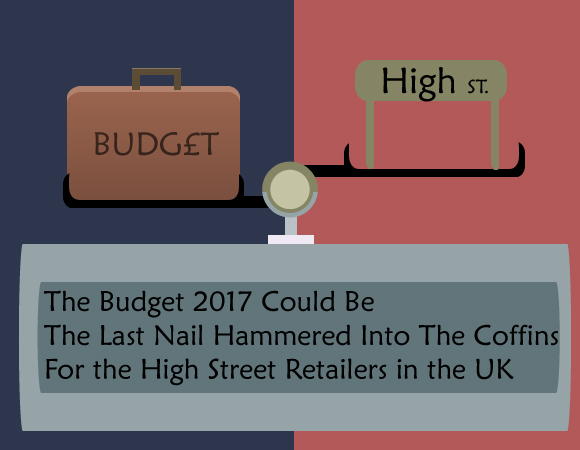 On Wednesday 08th, 2017 the government announced the annual budget 2017. But do we know what sort of future does it interpret? It is important to understand, what it has in store for the people of Britain. And, the year's publicized budget could be a prediction for the end of some High Street Retailers.
The increase in property prices is evident with the confirmed recalculation of business business rates across the UK, informed by Chancellor Phillip Hammond. Due to this some retailers will see a hike of more than 400 percent.
Seeing the revamp in the whole charges system, many retailers have already expressed their criticism of the move. The grievance is the outcome of the planned changed to business rates, which threatens retailers with the elevated prices while they are combating to match up with online retailers.
While many city centers indicates that the rising business rates are mounting around by 50 percent, e-tailers like Amazon might enjoy their fall out in rates on out-of-town distribution centers.
Amid these announcements, the dusk of the High Street Retail store looks apparent. And many surveys done by the experts point that the High Street Retail shop could vanish within the span of a decade. Only Nail bars and Charity shop will be left to adorn the thin crowded High Street of the UK.
In another section of the budget, there was a mentioned of an investment worth a £270 million. It was announced for the development of robotics and vehicles without drivers.
When it comes to courier services and logistics, Britain is at the forefront of technology. Apparently, the investment for expansion could further boom the already rapidly-changing face of delivery. The ongoing drone deliveries in Cambridgeshire, the package deliveries carried by the droids in the streets of London, and trials of driver-less vans in Greenwich are the best examples of this change.
So the budget 2017 could be the last nail hammered into the coffin for the High Street Retailers in the UK.